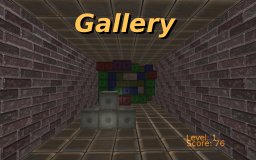 _____ _____      ____  _ ____  
   |_   _| ____|__ _|  _ \(_) ___| 
     | | |  _| / _` | |_) | \___ \ 
     | | | |__| (_| |  _ <| |___) |
     |_| |_____\__, |_| \_\_|____/ 
               |___/

Browse source in trunk

Download Tegris sources:

tegris-0.0.5.tar.gz
tegris-0.0.5.tar.bz2

tegris-0.0.4.tar.bz2

Experimental win32 binary:

tegris-0.0.6-bin-win32.zip


Check Tegris on sourceforge.net!




DISCLAIMER: Project is in very early stage,
it's full of debug messages and not user friendly behaviour.
Page last updated: Tue, 17 Sep 2013 14:53:00 +0200

---
Tegris is an OpenGL remake of old Block Out game aimed to be refined and inventive in exploitation of third dimension.


Controlling the game:

- Common

	ESC - Exit
	TAB - Release mouse pointer, click game window to catch mouse again 

- Current Block

	Left/Right/Up/Down arrow keys - move block

	Y,H - rotate around vertical axis
	U,J - rotate around horizontal axis
	I,K - rotate around depth axis

	Space - drop block

- Camera position (FPS style)

	Moving mouse - look round (flight simulator mode so the 'Invert Mouse' option is always on for now)

	W,S - move forward/backward
	A,D - strafe left/right
	Q,Z - fly up/down


If sometimes block can't be rotated it should be moved away from the wall (not automatic at the moment)


========================================================================
Copyright (C) 2008 Michal Pokrywka <wolfmoon -A-T- o2.pl>

This program is free software: you can redistribute it and/or modify
it under the terms of the GNU General Public License as published by
the Free Software Foundation, either version 3 of the License, or
any later version.

This program is distributed in the hope that it will be useful,
but WITHOUT ANY WARRANTY; without even the implied warranty of
MERCHANTABILITY or FITNESS FOR A PARTICULAR PURPOSE.  See the
GNU General Public License for more details.

You should have received a copy of the GNU General Public License
along with this program.  If not, see <http://www.gnu.org/licenses/>.